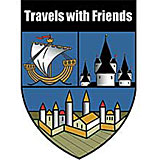 Welcome to Travels with Friends: We travel Europe researching sights, destinations and private guides so we can offer you the best information. We also arrange personalized private shore excursions and day trips from ports or city hotels.
If you are planning a trip to Europe, please follow the Free Information link above. You'll find the best things to see and do and fun travel tips.
We work with local tour operators to offer you private tours and shore excursions from over 150 ports. Some of the most popular are: Barcelona, Cannes, Livorno (Florence, Pisa, Tuscany), Monte Carlo, Nice, and Villefranche. But we also offer Baltic ports and many others.
Hire a guide for a couple of hours or multiple days through our site called Private Guides in Europe. Get the details tied down before you go.