Sights of Aix en Provence
---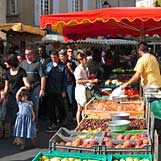 Aix in Provence is for many people the perfect French city. Founded in 122 BC, and for centuries the capital of Provence it is famous for its multitude of fountains, the most beautiful street in France and the many artists, including Paul Cézanne, who have chosen to live there. The city has an air reminiscent of Paris and yet the country feel that so many love about Provence, all fueled by a university population and a many wealthy citizens.
Start your visit at the Fontaine de la Rotonde in Place General de Gaulle. This large fountain dates to 1860 and features three statues representing Justice, Agriculture and the Fine Arts. From La Rotonde walk down the grand boulevard Cours Mirabeau. By the time you reach the other end you will be at the Fontaine du Roi René crowned by a statute of the medieval king who first brought Muscat grapes to Provence.
This wide street is lined with 150 year old Plane Trees and is considered to be the most beautiful street in France. On your right (south) the street is lined with 18th century mansions. Behind these mansions is the Quartier Mazarin, the area where Aix's elite have lived for centuries. There you will find many fountains (Fontaine des 4 Dauphines), a 12th century gothic church (St Jean de Malte) and the Musée Granet, featuring the only original Cézanne canvases in town and a fine collection of Roman antiquities. (The museum is closed until 2006 for refurbishment.)
On the left side (north) of the Cours Mirabeau the street is lined with cafés, shops and hotels. Behind rhem is Vieil Aix, or the old town. Small medieval streets meander until they suddenly open onto large open squares. Some of the squares feature the best outdoor markets in Provence. Notable among them is an antique and flea market at Place du Verdun on Tuesday, Thursday and Saturday. Just a little farther north at Place Richelme you will find a daily market of fruits, vegetables and treasures from the region.
Top Sights in Aix-en-Provence
Atelier de Cézanne- Located about a mile north of the Cours Mirabeau is the 1901 studio of painter Paul Cézanne. It was from here that he painted many of his famous works, including those featuring nearby Mont St-Victoire. The artist died in 1906, but his studio is set up as if he just stepped away for a few minutes. A nice peak into the life and work's of one of Provence's most famous artists.
Musée du Vieil Aix- This museum recounts the history of this beautiful city. Included is a display of Santons, small Provencal dolls dating to the 19th century.
Musée des Tapisseries- Located in the Archbishop's Palace this museum boasts a fine collection of 17th-18th century tapestries. There are often displays of modern tapestries as well.
Cathédrale St-Sauveur is a church that features architecture from the 5th to 17th Century. Worth at least a peak!
Walking Tours
The Tourist Office (located near La Rotonde) offers city walking tours in French and English at 9:30 AM on Wednesday and Sunday from July through October, and on Saturday during other months.
Available at the Tourist Office is a self-guided walking tour called Circuit de Cézanne which leads you to sights important to Paul Cézanne's life.
Travels with Friends: Learn more about other European destinations and tips for traveling within Europe. www.TravelsWithFriends.com

---
Europe travel news sent to you 15 times a year.
---
Top sights, hotel reviews, travel tips and more.
---
Private Tours in France, Greece, Italy and Spain.
---
Join one of our small group Europe tours.
---
Tours and day trips to help you explore Europe.
---
Hire a professional from Private Guides in Europe.
---
Let us help personalize your European itinerary.
---
Our thoughts on how to best travel in Europe.
---
For more information or to send us an email.
---
Car Rentals, Flights, Hotels, Rail Passes

---