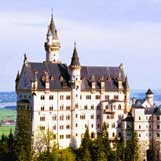 'Mad' King Ludwig's Castles
---
'Mad' King Ludwig
In 1864 eighteen year old Ludwig II became King of Bavaria. He preferred life in the countryside away from the intrigues of court and pressures of military advisers. He spent his time building fairytale castles and being the patron to composer Richard Wagner whose fantasy operas appealed to him. His withdrawal from public life and frivolous spending of the states money were so upsetting to the royal court, military and common people alike, that in 1886 he was declared insane and stripped of his title. The next day Ludwig and his psychiatrist were both found mysteriously drowned in Lake Starnberg.
Hohenschwangau
This castle, or schloss, dates back to the 12th century. Maximilian II ('Mad' Ludwig's father) had the property completely renovated and Ludwig spent much of his childhood here. The castle has a very lived-in feel compared to the other castles, despite the excessive decorations. The surrounding hills and lakes make for a very dreamy fantasy like setting for childhood. On the hills just above the area where Ludwig would have played, he later built Neuschwanstein. English tours are available in the summer months. You are given a tour with a set time when you buy your ticket.
Linderhof
Built between 1870 and 1879 Linderhof is the most reasonable of the 'Mad' King's castles. This is also the castle that he spent most of his time in. While it is not very large it is packed with opulence and imagination. You can think of it as a stage set where an inventive mind could conjure up fantasies of much grander palaces. There is a lovely Italian style garden with fountains that adorn the front of the castle.
English tours are available in the summer months. You are given a tour with a set time when you buy your ticket. After touring the castle, take a trip up the hill to the Grotto. This artificial cave has its own lake and swan boat. Ludwig had this built as a stage for one of Wagner's Operas so that he could enjoy private performances. Also not to be missed is the nearby Moorish Pavilion where the peacock throne is the highlight.
Neuschwanstein
Unlike the other schloss, or castles, that Ludwig had built, this one is true fantasy. While many think this castle is Medieval, it was begun in 1869 and was designed by a theatrical scene painter rather then an architect. Seventeen years later the castle was not yet complete and Ludwig had only lived in it for 102 days. It was from here that he was taken into custody after being declared insane, and the next day mysteriously drowned. The castle is set high on a rock looking over the surrounding countryside and lakes. The rooms that may be toured are furnished and many of the walls are adorned with murals depicting heroic Wagnerian sagas.
English tours are available in the summer months. You are given a tour with a set time when you buy your ticket. This is the most popular of Ludwig's castles and was one of the models that Disney used when creating castles for his theme parks. The tour lasts about 40 minutes and includes almost 200 stairs. After touring the castle, considering climbing further up the hill to Mary's Bridge. This foot bridge spans two gorges and a waterfall with wonderful views back down on to the castle.
You should plan 2-3 hours per castle visit. In summer months the castles can be very busy and advanced reservations are recommended.
Travels with Friends: Learn more about other European destinations and tips for traveling within Europe. www.TravelsWithFriends.com
---
Europe travel news sent to you 15 times a year.
---
Top sights, hotel reviews, travel tips and more.
---
Private Tours in France, Greece, Italy and Spain.
---
Join one of our small group Europe tours.
---
Tours and day trips to help you explore Europe.
---
Hire a professional from Private Guides in Europe.
---
Let us help personalize your European itinerary.
---
Our thoughts on how to best travel in Europe.
---
For more information or to send us an email.
---
Car Rentals, Flights, Hotels, Rail Passes

---