Bath, England
---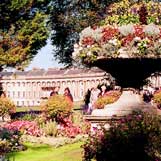 Bath takes its name from the 116 degree mineral hot springs that have been flowing from a point in the center of town for thousands of years. When the Romans arrived in Britain, they built an extensive Bath house modeled on those throughout the Roman Empire.
In Georgian and Victorian times (late 1700's to late 1800's) Bathís hot springs brought not only those in need of healing, but also members of high society from London. People of status would come for the 'season' (summer months) and adhere to a therapeutic routine something like this: a spa treatment in the morning, high tea in the afternoon and gambling or gala balls in the evening. No wonder it was popular!
Time: To scratch the surface in Bath you need at least 2 nights. Stay 3-5 nights and make it a base for visits to other nearby sights such as Stonehenge, Salisbury and some charming southern Cotswold towns close by. We don't recommend day tripping to Bath from London unless you are on a very tight schedule.
Transportation: 90 minutes from London via train or two hours by car. In Bath a car is not necessary, but you will need one if you plan to visit nearby sights and villages.
Tours and Cruises
Free Walking Tours- Mayorís Corps of Honorary Guides offers very good two hour walking tours everyday at 10:30 AM and 2:00 PM (except Saturdays).
Themed Walking Tours- There are a variety of paid walking tours that focus on history, comedy, Jane Austen and ghost tours.
Bath Bus Tour Company- Our favorite open-top-bus tours through Bath and the surrounding countryside. Your ticket allows you to get on and off at any stop for the entire day. Other companies offer similar tours, but donít include the countryside.
River cruises- One hour river cruises allow you to see the country side.
Top Sights in Bath
Roman Baths- This museum and self guided audio tour is very well done and allows you to see the ancient baths with lots of Roman artifacts and also to learn how they worked.
Pump Room- A beautiful Georgian style hall where High Society would gather, located just above the ancient Roman Baths. Here you can sip the healing spring water (its heavy mineral taste is not for everyone) or sit for dessert and coffee, tea or a light meal.
Royal Crescent and the Circus- Georgian (neo-classical) style town houses designed by John Wood as a place for High Society to stay while in Bath.
#1 Royal Crescent- Great museum offering a peak into the lives of Georgian High Society.
Costume Museum- A great museum highlighting fashion of the past 400 years. Itís like a visual history lesson. Included are the Assembly Rooms (great for Jane Austen fans) which were used for for playing card games, enjoying tea and music concerts in the 18th century.
Abbey- The Late Gothic Abbey is over 500 years old and stands in the center of town on the spot of an even older and larger church.
Pultney Bridge- This bridge spans the Avon River. It is lined with shops, much like the Ponte Vecchio in Florence. Below the bridge is the beautiful weir (low dam) and the Parade Gardens.
If you are planning a visit to Bath, please also see the following page about Wessex.
Travels with Friends: Learn more about other European destinations and tips for traveling within Europe. www.TravelsWithFriends.com

---
Europe travel news sent to you 15 times a year.
---
Top sights, hotel reviews, travel tips and more.
---
Private Tours in France, Greece, Italy and Spain.
---
Join one of our small group Europe tours.
---
Tours and day trips to help you explore Europe.
---
Hire a professional from Private Guides in Europe.
---
Let us help personalize your European itinerary.
---
Our thoughts on how to best travel in Europe.
---
For more information or to send us an email.
---
Car Rentals, Flights, Hotels, Rail Passes

---