Sights in Bayeux, France
---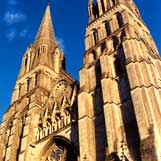 Bayeux is a small town in the heart of the Normandy region and only a few from the D-day beaches. The town has cobblestone streets and half timbered buildings and is easy to navigate on foot.
Parts of the main street is a pedestrian zone dividing the town in half, north to south, with the major sights just to the south. The tourist information center, located inside the old fish market on picturesque Pont St-Jean (St-Jean's bridge) and Place St. Patrice, the tree lined town square, act as bookends for a series of quaint shops and casual restaurants that cascade down the hill to the stream.
Bayeux was one of the first villages liberated by the Allies in 1944 and it makes an excellent base for visiting the D-day beaches. The town was not affected by the Allied bombings, and therefore there are still some Medieval buildings. However, Bayeux is most famous for its tapestry and gothic cathedral. To appreciate these sights, it is important to understand the town's history.
Bayeux and the Battle of Hastings
In the height of the Middle Ages, England's King Edward did not have a son to be heir to his throne. The top two contenders were an English nobleman, Harold, and William Duke of Normandy.
Harold was captured in a battle in Normandy. To save his life, he promised William that if the King died, he would allow William to take power. William agreed and let Harold return to England.
A short time later, King Edward died, and of course, Harold immediately claimed the throne for himself. William felt that he deserved to be King so he brought his army to England to fight for his rightful position.
The Battle of Hastings lasted fourteen hours and ended with the death of Harold, allowing William to become King of England and Duke of Normandy.
Many historians believe that if William had not won this battle, England would not have become the most powerful country in the world and that French may have been the official language of the New World.
The ancient tapestry in Bayeux tells this story in a visual way so that those who were not able to read could understand. It is like a Medieval comic book. The tapestry, made as an act of devotion, was hung in the gothic cathedral.
Top Sights in Bayeux
Bayeux Tapestry (Tapisserie de Bayeux)- A few years after the Battle of Hastings, Bishop Odo of Bayeux commissioned a work of embroidery to hang in the town's cathedral. Known as Queen Matilda's Tapestry, it was made in ten years time, from 1070-1080, by English nuns. It is 230 feet long and about 3 feet high and is made of wool embroidered onto linen. The story of the battle and the events that led up to it is told in a series of 58 individual scenes, much like a comic book story.
There exhibit is arranged in three parts. The first section is a detailed breakdown of what each scene is about. The second section consists of a 14 minute video production to help bring the history alive. Finally you view the tapestry itself. To some people, this may be too much information. If you know the story, you may want to skip the first two and just use the audio guided tour. If you are a fan of history and want detailed information, then you should visit all three parts. But whatever you decide, you'll leave with an appreciation of how highly the French people regard their history. Plan on one to two hours for a visit.
Interesting stories about the tapestry:
The tapestry was stolen during the French Revolution in 1789. Amazingly enough, in 1792 a local man was found using it as a tarp to hold things onto his cart, and it was returned to the authorities.
The tapestry was also used as propaganda. In the scenes you will notice that the English have long hair and beards to vilify them as the enemy, while the Normans are the clean cut heroes. After the revolution, Napoleon toured France with the tapestry to convince the French that England was evil and that they should be attacked.
Cathédral Notre-Dame- The cathedral was consecrated on July 14, 1077 in the presence of William, the King of England and Duke of Normandy. The original building was Romanesque in style and held the tapestry hanging in the nave. The building was added onto from the 12th to the 15th centuries, giving it a very gothic feel. This gothic style, so popular in France, was often used in England and referred to as "Norman" art. If you are not a cathedral fan stop by to see it illuminated at night.
Baron Gerard Museum- This museum, located just outside the cathedral, is a collection of porcelain, lace and religious art work.
Hôtel du Doyen- Also located just outside the cathedral, this museum has live exhibitions of lace making circa the 1600s.
Bayeux Battle of Normandy Memorial Museum- This museum is located about a 20 minute walk from the town center. It recounts the Battle of Normandy from June 7th until August 22, 1944 with exhibits and a film. Included are tanks, jeeps and uniforms. Plan on 1.5-2 hours to visit this museum.
Travels with Friends: Learn more about other European destinations and tips for traveling within Europe. www.TravelsWithFriends.com

---
Europe travel news sent to you 15 times a year.
---
Top sights, hotel reviews, travel tips and more.
---
Private Tours in France, Greece, Italy and Spain.
---
Join one of our small group Europe tours.
---
Tours and day trips to help you explore Europe.
---
Hire a professional from Private Guides in Europe.
---
Let us help personalize your European itinerary.
---
Our thoughts on how to best travel in Europe.
---
For more information or to send us an email.
---
Car Rentals, Flights, Hotels, Rail Passes

---