The Best Sights in Berlin
---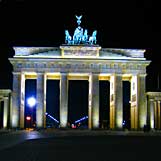 Berlin is one of the most exciting cities in Europe. While it is steeped in history it is also a very modern city that is rapidly changing while you read this information. Because Berlin is complex and the best sights are varied we have broken them into categories. Some sights fall into more than one category and we have done our best to cross reference these. Below you will find a breakdown of the categories and a list of which sights are included. If you have not made it to Berlin yet, now is the time to go. See this exciting metropolis as it evolves into one of the great cities of the 21st century.
---
Follow the links to explore the best sights in Berlin!
Berlin Sights - The Berlin Wall and Cold War Sights
Alexanderplatz, Checkpoint Charlie, Documentation Center, East Side Gallery, Fernsehturm (TV Tower), Palace of the Republic, Unter den Linden S-Bahn
Berlin Sights - other Historic Sights
Bebelplatz, Brandenburg Gate, Gendarmenmarkt, Nikolai Quarter, Reichstag Building (Bundestag), Stasi Headquarters, Tiergarten
Berlin Sights - Jewish Sights
Jewish Museum, New Synagogue, Jewish Cemetery, Street of Death
Berlin Sights - Museums in Berlin
Museum Island (Alte Nationalgalerie, Pergamon), Checkpoint Charlie, Film Museum, Jewish Museum, Knoblauchhaus, Märkisches Museum, Schuwle Museum, Story of Berlin, Technical Museum
Berlin Sights - Memorial Sights
German Resistance Memorial, Holocaust Memorial, Kaiser-Wilhelm-Gedächtniskirche, Nazi Book Burning, Schinkel's Neue Wache, Topography of Terror
Berlin Sights - Shopping in Berlin
Europa-Center, Friedrichstraße, Hackescher Markt, KaDeWe, Kurfürstendamm (KuDamm), Nikolai Quarter, Potsdamer Platz, Unter den Linden
Berlin Sights - Day Trips from Berlin
Charlottenburg Palace, Egyptian Museum, Olympic Stadium, Potsdam, Spandau
Private Guides: See Berlin and learn about its history with a private guide. www.PrivateGuidesInEurope.com

---
Europe travel news sent to you 15 times a year.
---
Top sights, hotel reviews, travel tips and more.
---
Private Tours in France, Greece, Italy and Spain.
---
Join one of our small group Europe tours.
---
Tours and day trips to help you explore Europe.
---
Hire a professional from Private Guides in Europe.
---
Let us help personalize your European itinerary.
---
Our thoughts on how to best travel in Europe.
---
For more information or to send us an email.
---
Car Rentals, Flights, Hotels, Rail Passes

---