Christmas Markets
(Weihnachtsmarkt)
---
Every year between Advent and Christmas Germany comes alive with world famous Christmas markets. These outdoor markets fill local squares in countless cities, expressing regional traditions and local customs through arts and crafts, food, drink, music and pageantry. Stalls and booths are clustered together in the historic centers of the village, and while each city varies, most offer a large town Christmas tree, a municipal nativity scene, festive evening atmosphere, decorated streets and plenty of traditional stores as well. The word Weihnachten (Christmas) in German originated in the 12th century from a term that was used to describe the time of year. The most literal translation is "in the holy nights". Please read on for more information on the history and traditions of these markets.
Many Christmas markets have thrived for centuries, while others have only been revived recently. Originally, market activities began around a church or cathedral to attract the towns people as they left a service. It allowed craftsman and artisans who did not own shops to sell their goods directly to customers. Handcrafted local goods have remained the focus of the markets, and today you will find nostalgic tree ornaments, hand carved wooden toys, ceramics, pottery, candles, needlework, carved nativity scenes, and other local gift items as well as special food and drink that is only available at this time of year.
The Advent period, leading up to Christmas, is a time when saints are remembered. The most important, of course, is St. Nicholas (with Knecht Rupprecht, his helper). In Germany, St. Nicholas day is celebrated on the 6th of December, and many towns have a ceremony that involves both St. Nicholas and the Christ Child. In earlier times on St. Nicholas day children were tested in their knowledge of the scriptures, and were rewarded with simple gifts for positive results or reprimanded for poor results. During the 19th century an intimidating figure named Rupprecht began to appear with St. Nicholas. It was his job to punish those children who were bad or did not learn their scriptures. Today you will find remnants of this legend in scary devil masks (Rupprecht) that can be seen and purchased in the markets. The masks serve as a reminder to children that they should behave.
Advent wreaths are also an important symbol in the weeks preceding Christmas. Green wreaths are a symbol of blessing and guard against bad luck. Originally the advent wreath had 24 candles, with one candle lit for each day leading up to Christmas Eve. Today, only four candles are used, one for each Sunday leading up to Christmas Eve. The candles symbolize Christ bringing light into the darkness of the world.
Christmas songs were used in religious worship to convey the teachings of the Bible. The most familiar song by far is "Silent Night, Holy Night", which was first heard during Christmas Mass on December 25, 1818, in the small town of Oberndorf (near Salzburg).
The use of a Christmas tree dates to the 16th century when the "Paradise Play" was performed on Adam and Eve Day (December 24th). An evergreen tree was decorated with apples to portray the original sin in the Garden of Eden. This tradition spread, and in later years the tree was decorated with more fanciful ornaments like candles, glass balls, tin figures, stars made from straw, braided chains and gilded angels, all items that can still be purchased in the markets today!
The Nativity Play was part of Christmas Masses in the 13th Century. The story of the birth of Christ was acted out so that those that could not read would understand and remember. The building of nativity scenes turned into a popular folk art in the regions of Bavaria and Tyrol. Today you will see nativity scenes in almost every market, and wood carved nativities are a popular gift item.
The custom of giving gifts to children on Christmas Eve or Day did not develop until the 18th century. It sprang from the Bible account of the Magi, or Three Wise Men who brought gold, incense and myrrh as gifts to the Christ child. In times past the more fortunate of a town would bring gifts and leave them in the nativity scene for distribution to the poor and needy. In Germany today, gifts are given on Christmas Eve, before going to Mass. In some parts of the country it is the tradition that Santa Claus brings the gifts, and in other parts they are left by the Christ Child.
Christmas markets are also filled with the smells and tastes of holiday food and drink. A hot spiced red wine called "glühwein" is very common at the markets, as are hot chocolate and a variety of heated ciders or milk drinks fortified with a liqueur such as amaretto. When you purchase one of these drinks, you'll pay a deposit for a collectors mug. If you'd like to keep the mug you may, or return it for your deposit refund. You will also find a variety of sweets, candies, fresh roasted nuts baked goods and cookies in the market. The most popular is "lebkuchen", which originated in the 14th century when a flat bread was mixed with spices (ginger) that recently arrived from the orient. You will also find a wide variety of traditional foods available, such as sausages and baked potatoes, that can be eaten at high top tables in front of the booth.
German Christmas Markets CD Rom
Maybe you are planning to visit the German Christmas markets? If so, we have a wonderful CD Rom that is loaded with music, pictures, traditions, stories, poems, songs, recipes and information about specific city's markets. Also included is a full color brochure with more information and lots of website addresses about the markets. The total cost including shipping in the US is $25. Please send us an email to make arrangements.
Travels with Friends: Learn more about other European destinations and tips for traveling within Europe. www.TravelsWithFriends.com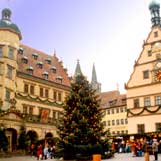 ---
Europe travel news sent to you 15 times a year.
---
Top sights, hotel reviews, travel tips and more.
---
Private Tours in France, Greece, Italy and Spain.
---
Join one of our small group Europe tours.
---
Tours and day trips to help you explore Europe.
---
Hire a professional from Private Guides in Europe.
---
Let us help personalize your European itinerary.
---
Our thoughts on how to best travel in Europe.
---
For more information or to send us an email.
---
Car Rentals, Flights, Hotels, Rail Passes

---