Cotswolds, England
---
The villages of the Cotswolds were made rich by the wool trade. But with the Industrial Revolution, mass production of cotton became dominant and the wool industry fell. Because of this, the area has stood still in time and now offers lovely English countryside dotted with the most quaint villages in all of Britain. Time spent here is more about nature and charm and most activities revolve around walking, shopping, stepping into small Gothic churches with their tombstone filled courtyards, and admiring the local charm and natural beauty.
Time: Two nights and a full day is a minimum for the Cotswolds. If you are looking for your dream of rural England you can easily fill 3-5 days or more. Day trips from Bath, Stratford or London are an option, but we guarantee you'll will wish you had stayed here.
Transportation: The best way to properly see the Cotswolds is by car. The area is about 25 miles wide and 50 miles long with small villages every 3-4 miles. The roads are small and the driving is slow. Once you are in the area, walking the Cotswold Way, a well worn hiking path, is a popular choice.
Southern Cotswold Villages
Lacock & Castle Comb- Wonderful little villages close to Bath.
Tetbury- Famous for its antique shopping.
Central Cotswold Villages
Bibury-Tiny village with trout and duck filled stream and idyllic vine covered row houses.
Bourton-on-the-Water- Extremely charming town with a canal, know as the Venice of the Cotswolds. To avoid crowds try to visit in the early morning, evening or off- season.
Cirencester- A larger town for those that need a dose of reality. (With its beginnings as an ancient Roman town)
Moreton-in-Marsh- Fewer tourists and more locals! Market day is Tuesday.
Painswick- Cute village near the M5 – not in the heart of the region, but convenient from the highway if you're passing through.
Stow-on-the-Wold- The town at the highest elevation in the Cotswolds. Charming but touristy.
Upper and Lower Slaughter- These quaint villages still have working water mills. They are an easy walk from one another, or a one hour walk from either Bourton or Stow (both above).
Northern Cotswold Villages
Broadway- Off the beaten path town with lots of teahouses and shops.
Chipping Campden- In its heyday this was one of the richest wool villages, and it is evident from the impressive thatched roofs and the famous market street.
Other sites not to be missed
Blenheim Palace- In 1704 when the Duke of Marlborough beat the French at the Battle of Blenheim, this palace was his gift. This is a must see, one of the largest and best homes in all of England. Tours include a Churchill exhibit (he was born here). The gardens are well worth a stroll.
Hidcote Manor- One of the best gardens in England, designed as outdoor rooms with varying themes.
Travels with Friends: Learn more about other European destinations and tips for traveling within Europe. www.TravelsWithFriends.com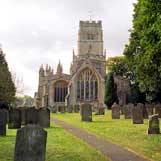 ---
Europe travel news sent to you 15 times a year.
---
Top sights, hotel reviews, travel tips and more.
---
Private Tours in France, Greece, Italy and Spain.
---
Join one of our small group Europe tours.
---
Tours and day trips to help you explore Europe.
---
Hire a professional from Private Guides in Europe.
---
Let us help personalize your European itinerary.
---
Our thoughts on how to best travel in Europe.
---
For more information or to send us an email.
---
Car Rentals, Flights, Hotels, Rail Passes

---