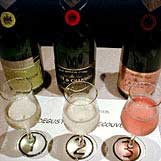 Champagne cellars of Epernay
---
Epernay is a highlight for serious Champagne lovers. While Reims is the capital of the Champagne Region, Epernay is the soul of the region, located about 15 miles south of Reims. You can get here by train or car in 20 minutes from Reims, or in an hour and a half from Paris.
The town itself is perhaps not the most quaint in France. It is very much a common working class French town without much architectural panache, because during its history it has been destroyed or burned nearly 25 times by invading enemies.
But the true pleasure, and what you'll come for is the prestigious Avenue de Champagne where the major wine houses of the region offer tours and tastings of their products. Underneath the town run over 200 miles of caves cut from limestone and stocked with champagne being readied for worldwide distribution.
Best Champagne Cellars of Epernay
Moët et Chandon- This is our favorite tour. You are shown a short film describing how champagne is made and then taken down into the maze of cellars below the earth, including a tasting at the end. Napoleon was a friend of the Moët family and stopped here before each battle to get thousands of bottles of champagne. Legend has it that the one time he did not make the stop was before the battle of Waterloo. When you sign up for the tour for which there is a small fee, splurge and take the offer which includes 3 tastings - you won't be disappointed. There is a lovely gift shop at the end as well. Open daily from 9:30 - 11:30 and 2:00 - 4:30. Closed Saturdays and Sundays in winter
Mercier- The favorite brand of the French, and since the major champagne houses are all on the same street, you can do two tours in one day. At Mercier you tour the vast tunnels in a laser-guided train. You also get to see one of the world's largest barrels, which can hold over 200,000 bottles of champagne. Now that's a celebration! Open daily from 9:30 - 11:30 and 2:00 - 4:30. Closed Tuesday and Wednesday in the winter.
Perrier-Jouët- Known for their distinctive "Fleur de Champagne" bottle, this house is only open by appointment. With an appointment you are offered a choice of tours from the basic cellar tour with tasting, to tours that explain the pressing process, or teach you the aromas of champagne you taste. Any fan of Art Nouveau / Deco should request to tour the Maison de Belle Époque. Open weekdays by appointment only.
Alfred Gratien- This is one of the smaller houses in Epernay. Here you will be guided by one of the winemakers rather than an employee and it can be very rewarding, though some familiarity with French might help. This house still uses wooden casks during the first fermentation of the wine for a more complex flavor, instead of the stainless steel vats that have taken over most other houses. Tours are by appointment only.
De Castellane- The tour at this house focuses on production including bottling and labeling. On the property is a large tower with views over the region, and a small museum with antique champagne mechanisms. Open daily from 10:00 - 12:00 and 2:00 - 6:00 by appointment only.
Please also visit our pages about Reims, French Champagne and French Wine.
Private Guides: See Epernay and learn about its history with a private guide. www.PrivateGuidesInEurope.com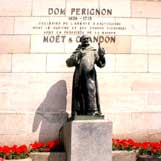 ---
Europe travel news sent to you 15 times a year.
---
Top sights, hotel reviews, travel tips and more.
---
Private Tours in France, Greece, Italy and Spain.
---
Join one of our small group Europe tours.
---
Tours and day trips to help you explore Europe.
---
Hire a professional from Private Guides in Europe.
---
Let us help personalize your European itinerary.
---
Our thoughts on how to best travel in Europe.
---
For more information or to send us an email.
---
Car Rentals, Flights, Hotels, Rail Passes

---