Füssen - Wieskirche
---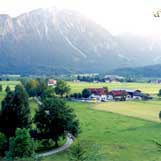 The town of Füssen
The small town of Füssen was once at the southern end of the medieval trade route, now known as the Romantic Road. The ancient Roman road, Via Claudia, went from Verona (now in Italy) to Augsburg (now in Germany) passing right through Füssen.
Today the town is overshadowed by the popularity of Ludwig's Castles, and it is often used as a base from which to visit them.
Reichenstrasse is a cobbled pedestrian-only shopping street worth a stroll. At the end is the town hall, a former Benedictine abbey (Kloster St. Mang) founded in the 8th century. Inside is a small museum recounting the history of the abbey and violins, which Füssen is famous for. On the hill above the town where once stood a Roman fortress, is the Hohes Schloss, a 13th century castle, once a residence of the Bishop of Augsburg. Running through the town is the Lech River. For an enjoyable stroll, head just east of town and take the foot bridge over the river's waterfall.
Tegelberg Gondola and Luge
Tegelberg is a 5,500 foot high mountain very near Neuschwanstein castle. At its base is a park that includes a gondola and luge rides.
The luge is a summer version of a bobsled, with wheeled cars riding on a stainless steel track. Each luge car, holding one rider, is towed to the top of the track and then set free to glide, picking up speed as it makes its way back down to the bottom. It may look dangerous, but it is really quite easy to control and guaranteed to put a smile on your face.
The gondola takes riders to the peak of Tegelberg where you'll have wonderful views of Bavaria and (on clear days) the Alps. You can enjoy the view by walking the flower filled trails or lounging in the outdoor beer garden. An added bonus is watching hang gliders taking off from the peak and sailing over the valley below.
Wieskirche
This church was built between 1746 and 1754 by the Zimmermann brothers to house a miraculous crucifix that in 1738 had reportedly wept. The church remains a pilgrimage stop as well as a tourist attraction since it is considered the best example of a rococo style church in Germany.
Rococo style, balances heavy decoration with light, airy, almost happy elements including pastel colors, gold and ivory, thin columns and lots of cherubs.
The word Wieskirche means the church in the meadow, and perfectly describes this church's setting located about 15 minutes northeast of Füssen.
Travels with Friends: Learn more about other European destinations and tips for traveling within Europe. www.TravelsWithFriends.com

---
Europe travel news sent to you 15 times a year.
---
Top sights, hotel reviews, travel tips and more.
---
Private Tours in France, Greece, Italy and Spain.
---
Join one of our small group Europe tours.
---
Tours and day trips to help you explore Europe.
---
Hire a professional from Private Guides in Europe.
---
Let us help personalize your European itinerary.
---
Our thoughts on how to best travel in Europe.
---
For more information or to send us an email.
---
Car Rentals, Flights, Hotels, Rail Passes

---