Sights in Giverny
---
Monet's Home and Gardens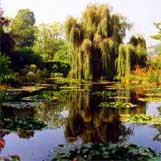 In 1883 Impressionist artist Claude Monet rented a small pink house with green shutters in the town of Giverny, outside Paris. He selected the town after seeing its quaint beauty from a train window. He loved to garden, and immediately began to design the landscape to suit his artistic ideal.
As he became more well known and his paintings began to sell, he was able to purchase the house and some additional land nearby. There he added a water garden and a Japanese bridge to frame his favorite water lilies. This is the garden you see today, the subject of his most famous works known as the water lily series. Many of his artist friends think his garden was his greatest masterpiece.
The best months to visit the gardens are May and June, however, the full time gardening staff ensures that each open month offers bursts of color.
The original home has been restored, and much like the painter's pallet, each room represents a different color decorated with Monet's collection of Japanese art. Nearby the atelier (design house) which was added to the property in 1916 features large copies of his works. Monet lived in the house until his death in 1926.
Today, the majority of the water lily series can be seen at the Musée National de l'Orangerie in Paris. At the museum the paintings are displayed as originally intended, lining the walls of oval rooms and viewed in natural light.
Giverny is also home to the American Impressionist Art Museum which features works of the many American artists who came to Giverny to work near Monet.
Private Guides: See Giverny and learn about its history with a private guide. www.PrivateGuidesInEurope.com
---
Europe travel news sent to you 15 times a year.
---
Top sights, hotel reviews, travel tips and more.
---
Private Tours in France, Greece, Italy and Spain.
---
Join one of our small group Europe tours.
---
Tours and day trips to help you explore Europe.
---
Hire a professional from Private Guides in Europe.
---
Let us help personalize your European itinerary.
---
Our thoughts on how to best travel in Europe.
---
For more information or to send us an email.
---
Car Rentals, Flights, Hotels, Rail Passes

---