What to Buy in Greece
---
Greece is renowned for its traditional handcrafts and beautiful gold and silver jewelry. The best Greek souvenirs may not be particularly cheap, but if they are genuinely Greek they will bring your memories alive again and again once you're back home. Bartering over price may work in a small town or an open air market, but not as often in Athens or on the tourist popular islands.
Jewelry
Jewelry shops are abundant in Athens and on the major islands. They will offer a lively mix of modem designs and those based on ancient Greek and Byzantine styles. Whether your taste runs from chic and name conscious to finely wrought ancient reproductions, you'll find more than enough "bling" to keep you going strong. Don't forget to check out museum gift shops, too. One type of jewelry item you can't miss seeing is Kombolóï, or worry beads. The bead strands are held in the hand, flipped around and individually counted as a way to relax. They are sold in souvenir shops and jewelers.
Handcrafts
Handcrafts range from rustic pots to flokáti rugs and everything in between. Ornate utensils like wooden spoons are often hand-carved into the shapes of figures from native olive trees. Brightly colored embroidery and wall-hangings are produced in many villages where they are often seen hanging out for sale along the streets. These are often cottage industries, earning the family a large chunk of its annual income. The islands will offer wooden boat models, tiny windmills, and watercolors inspired by island life.
Religious Icons
These come from the Byzantine Christian tradition and range from very small portraits to large gilded or silvered pictures. Some of the most beautiful and expensive are made with age-old traditional techniques and materials.
Statuary and ceramics
These can range from gaudy cheap souvenir versions to high-quality numbered art objects. You will see so many versions of them that they may begin to all look the same, but if you have time, consider your favorite styles after you've been to a museum or two and seen some originals.
Apparel
Leatherwork takes the form of sandals, belts, and handbags and is available almost everywhere. Also popular, is resort-wear in lightweight fabrics and t-shirts which can be accessorized with woven shoulder bags or backpacks. You can't leave Greece without a white or brightly colored piece of clothing.
Specialty foods
Take home some olive oil, dried oregano, honey, dried figs, pistachio nuts, olives, or the sesame seed and honey candy called pastelli. Liquors like Ouzo or wines like Retsina can also make good gifts and are available at airport shops for last minute purchase.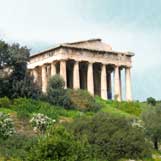 ---
Europe travel news sent to you 15 times a year.
---
Top sights, hotel reviews, travel tips and more.
---
Private Tours in France, Greece, Italy and Spain.
---
Join one of our small group Europe tours.
---
Tours and day trips to help you explore Europe.
---
Hire a professional from Private Guides in Europe.
---
Let us help personalize your European itinerary.
---
Our thoughts on how to best travel in Europe.
---
For more information or to send us an email.
---
Car Rentals, Flights, Hotels, Rail Passes

---