Day Trips from Paris to Chartres
---
Day Trip to Chartres: The town of Chartres is most famous for its impressive Cathedral. The cathedral holds the Sancta Camisia, the garment supposedly worn by Mary when she gave birth to Christ. This was given to the church in 876 by Emperor Charlemagne's grandson, and ever since people have made a pilgrimage to the site.
In 1194 a great fired burned down the cathedral. Three days later a cardinal found that the garment survived the fire. People from all over Europe felt this was a miracle and money poured in to build a new cathedral.
The present building was built from 1194-1225 and is one of the earliest fully Gothic churches. It also has the widest nave of any church in France and has the only surviving stone labyrinth. In the past pilgrims made their way through the stone maze on their knees.
Many people know the church for its stained glass rose windows said to be the most complete of any Gothic church. The church is the tallest building in Chartres, and is so large that it can be seen from far away on your approach. Many shops and cafés surround the area near the church.
Details: From Paris take the train from the Gare Montparnese, which run 10 times a day. The cost of the train is about $35 round trip and it takes one hour each way.
The cathedral is open daily from 7:00 AM -7:00 PM. There are tours ($10.00 each) of the cathedral at 12:00 and 2:45 daily except on Sunday. The two tours cover different aspects of the church, so you may want to take both.
You can obtain a map and walking tour of the town from the TI, near the entrance of the cathedral. Plan a minimum of 6 hours for your entire daytrip from Paris.
Day Trip from Paris- Join an organized day trip from Paris to visit Chartres. More
Travels with Friends: Learn more about other European destinations and tips for traveling within Europe. www.TravelsWithFriends.com
Top of Page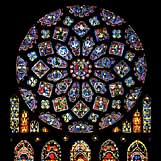 ---
Europe travel news sent to you 15 times a year.
---
Top sights, hotel reviews, travel tips and more.
---
Private Tours in France, Greece, Italy and Spain.
---
Join one of our small group Europe tours.
---
Tours and day trips to help you explore Europe.
---
Hire a professional from Private Guides in Europe.
---
Let us help personalize your European itinerary.
---
Our thoughts on how to best travel in Europe.
---
For more information or to send us an email.
---
Car Rentals, Flights, Hotels, Rail Passes

---