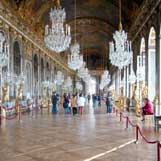 Day Trips from Paris to Versailles
---
Day trips to Versailles: The château at Versailles is not the largest, or the oldest, or the most perfectly designed château, but it epitomizes what a royal palace should be. Built over the period of 1623 to 1710, it was started by Louis XIII, then continued by his son Louis XIV and finished by Louis XV. It started out as a hunting manor, but was continually added on to.
The property is far too extensive to explore in just one day, but there are a variety of options, from guided tours to self walking audio guides, that will enable you to explore just the parts that are interesting to you. The building is so large that at one point over 10,000 people lived in it, including the entire royal court, the government and their servants. The interior highlights include the Hall of Mirrors, the King's Apartments and the Queen's Apartments.
Due to overcrowding Louis XIV had a small palace (Le Petite Trianon) built in the woods behind the château so that his immediate family could vacation away from the main building. Louis XV's wife, Marie Antoinette, had a small farm (L'Hameau) built around a pond so she too could escape the crowds and play at being an idyllic shepherdess complete with perfumed sheep!
The formal grounds, fountains, reflecting pools, lakes, smaller palace and hamlet are just as impressive as the main building.
The Academy of Equestrian Arts at Versailles: In 2003 the former Royal Stables at the Château of Versailles were reopened as the Academy of Equestrian Arts. The beautiful stables have been refinished with wood panels and mirrored walls and beautiful chandeliers. You can visit the stables and watch a performance. You will find this an amazing experience even if you are not a fan of horse shows. This experience now make Versailles well worth a full days visit.
Horse Riding morning sessions take place each day except Monday and include dressage work of the horses by the horse riders and a visit to the stables. This takes place on the hour from 9:00 AM until 12:00 noon Tuesday through Friday and from 11:00 AM until 2:00 PM Saturday, Sunday and Holidays. The cost is about $10 per person.
A full Musical dressage show which includes a musical carousel, musical interlude, equestrian improvisation and a visit to the stables takes place on Saturday, Sunday and Holidays at 2:15 PM. The cost is about $20 per person.
Seating at the above performances is limited to 500 people. Discounts are available for those under 18 and for groups of 10 or more. The stables are closed January and the first two weeks of February.
Details: From Paris take the RER-C trains to Versailles R.G. (Rive Gauche). On the front of the train look for the name Vick. The journey is about 30 minutes and costs about $6.00 round trip, or is included in a 5 tier Métro Pass. Once you are there, turn right out of the station and then left on the first street. It is about a 10 minute walk to the château. The basic self guided tour costs $8.00 (covered by Museum Pass) with supplements for audio guides, or tour guides. The smaller palace and hamlet require a long walk or use of a tram and payment of additional supplements. On Sundays there are fountain displays requiring supplements to access the gardens. Plan on 6 hours for your entire visit from start to end from Paris. Note that there is a lot of walking involved.
Day Trip from Paris- Join an organized day trip from Paris to visit Versailles. More
Travels with Friends: Learn more about other European destinations and tips for traveling within Europe. www.TravelsWithFriends.com
Top of Page

---
Europe travel news sent to you 15 times a year.
---
Top sights, hotel reviews, travel tips and more.
---
Private Tours in France, Greece, Italy and Spain.
---
Join one of our small group Europe tours.
---
Tours and day trips to help you explore Europe.
---
Hire a professional from Private Guides in Europe.
---
Let us help personalize your European itinerary.
---
Our thoughts on how to best travel in Europe.
---
For more information or to send us an email.
---
Car Rentals, Flights, Hotels, Rail Passes

---