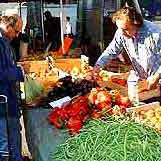 Outdoor Markets in Provence
---
Visiting an open air market in Provence is one of life's little pleasures. Market day has been a way of life for Provençals as well as most Europeans for generations. The market serves not only as an opportunity to shop, but also has a social function bringing the community together each week. For the traveler, it allows you a glimpse into everyday life in Provence and allows you to interact with locals.
Typically each town has a market one day a week (a few towns have a small daily market). The markets start very early in the morning (by 8:00) and are usually closed by 1:00PM. A market consists of local farmers and other vendors who sell goods. Many of these vendors travel from market to market, so you may see the same vendor at a market on Monday, and then in another town on Tuesday. Other vendors are more local and only sell at their town's market.
The market place is usually the town square, crammed full with stalls. You will most often have a selection of fresh fruits and vegetables from local farmers, fish and meats from local butchers as well as other specialties such as fresh bread, ripe cheese, olives, honey, spices and wine. If you are traveling, this is a very economical way to build a picnic for lunch or dinner. It is also common to find pre-made food such as baguette sandwiches or pizza.
In addition to selling food, most markets also sell everyday items such as table linens, shoes, clothes, flowers, recorded music, books, and items you might find in a hardware store. Then there are certain markets that offer very specific goods such as antiques. It's almost as if a mini-mall pulls into town each week, and everyone comes outside to meet and shop. None the less, you will always find things that are very specific to the region or city.
I can't imagine a better way to spend a morning in Provence than visiting a local market. Below is a list of markets by day. Parking is often difficult, so arrive early! The more popular markets are in bold and specialties are shown in (parenthesis).
Sunday- Avignon (flea market), Isle sur la Sorgue (antiques), Mausanne
Monday- Bédoin, Cadenet, Cavaillon, Nîmes (antiques), Stes-Maries-de-la-Mer
Tuesday- Aix-en-Provence (antiques), Gordes (arts and crafts), Grasse, La Tour D'Aigues, St-Tropez, Tarascon, Vaison-la-Romaine
Wednesday- Arles, Digne, Draguignan, Fréjus, Salon-de-Provence, Sault, Sisteron, St-Rémy-de-Provence
Thursday- Aix-en-Provence, Beaucaire, Isle sur la Sorgue, Le Lavandou, Orange, Roussillon
Friday- Bonnieux, Carpentras, Châteauneuf-du-Pape, Lourmarin, Moustiers-Ste-Marie, Remoulins
Saturday- Aix-en-Provence (antiques), Apt, Arles, Barjols, Digne, Draguignan, Fréjus, Manosque, Sisteron, St-Rémy-de-Provence, St-Tropez, Uzés
Daily- Aix-en-Provence (fruit and vegetables), Antibes, Avignon (except Monday), Cannes, Marseille (fish), Menton, Nice, Sanary-sur-Mer, Toulon
Private Guides: See Provence and learn about its history with a private guide. www.PrivateGuidesInEurope.com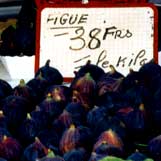 ---
Europe travel news sent to you 15 times a year.
---
Top sights, hotel reviews, travel tips and more.
---
Private Tours in France, Greece, Italy and Spain.
---
Join one of our small group Europe tours.
---
Tours and day trips to help you explore Europe.
---
Hire a professional from Private Guides in Europe.
---
Let us help personalize your European itinerary.
---
Our thoughts on how to best travel in Europe.
---
For more information or to send us an email.
---
Car Rentals, Flights, Hotels, Rail Passes

---