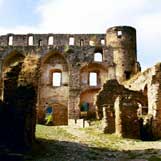 St. Goar, Germany
---
We enjoy arriving in St. Goar via the train from our base in Bacharach and then taking a boat trip along the Rhine. But once you've made the journey here, why not stay for a couple of hours and explore? St. Goar offers enough charm and interest to warrant a half day visit.
Top Sights in St. Goar
The main street in town, Heer Strasse is lined with shops, restaurants and a hotel or two. It's an excellent place for picking up typical German souvenirs. In the heart of town, this street is for pedestrians only. The exception to this rule is the embarrassingly touristy, but quite functional, train. This ride brings people from the downtown shopping street up the hill to the Rheinfels Castle. If you are not up for a hike, this is your best option. Even if you don't plan to tour the castle, it's a leisurely way to get an overview of the Rhine setting of St. Goar.
The Rheinfels Castle was once the largest and most imposing castle on the Rhine. Built in 1245, this castle ruled the river traffic, and many of the other castles, for centuries. In 1692 it was strong enough to withstand an attack by 28,000 French troops. Finally in 1797 the French Revolutionary army had their revenge and destroyed it! Since that time only its extensive ruins have dominated the hill over St. Goar.
Dining options abound in St. Goar. Casual restaurants with outdoor tables offer views of the river. A bit more formal and a much better view can be had at the restaurant on the top of the hill next to the castle. Or you can always create a picnic lunch and enjoy it in the lovely park running along the riverbank.
Burg Rheinfels Castle
The castle is the best ruined castle in the region. Many ruined castles aren't available to tour, so take advantage of it. English speaking guides are only available for large groups, but you can purchase a map, flashlight and English guidebook at the entrance. Enjoy excellent views of the Rhine almost every where you look. For the adventurous there are slightly creepy underground tunnels and passageways that can be explored if you bring a flashlight or purchase one.
Shopping in St. Goar
If you go to St. Goar, please stop in our favorite shop, Stefan's Wine and Christmas Paradise. The owner, Stefan, will gladly give you a free sample of wine or Brandy that his family produces in the Rhine region. His shop features a variety of fine wines and typical German Christmas ornaments! To have a peak, click here www.stefans-wine-paradise.de.
Travels with Friends: Learn more about other European destinations and tips for traveling within Europe. www.TravelsWithFriends.com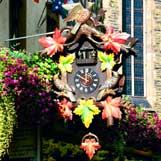 ---
Europe travel news sent to you 15 times a year.
---
Top sights, hotel reviews, travel tips and more.
---
Private Tours in France, Greece, Italy and Spain.
---
Join one of our small group Europe tours.
---
Tours and day trips to help you explore Europe.
---
Hire a professional from Private Guides in Europe.
---
Let us help personalize your European itinerary.
---
Our thoughts on how to best travel in Europe.
---
For more information or to send us an email.
---
Car Rentals, Flights, Hotels, Rail Passes

---