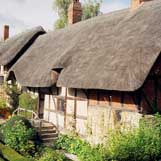 Stratford upon Avon and Warwick Castle
---
Stratford-upon-Avon is the second most visited city in England by Americans. It is the birthplace of Shakespeare and a great draw for readers, writers and those who enjoy theater. A full day is needed to take in the sights, but 3 nights is best if you are using this is a base to also visit Warwick Castle. Be warned that Stratford is overrun by tourists in high season (summer). The theater season is from April through January. Stratford is 3 hours from London via train or 3.5 by bus or car.
Shakespeare Highlights
Guide Friday Buses- In warm months there is an open top double-decker bus that makes a loop to the Shakespeare sights in town. Stay on for the 1 hour trip, or hop on and off to visit each site.
Shakespeare's Birthplace- Early 16th Century home where Shakespeare was born is now set up to look as it would have when he was born in 1564. Also included is a visitor center and garden.
Anne Hathaway's Cottage- Thatched wattle and daub cottage was the home of Shakespeare's wife and is the most photographed Trust property (upper left). The interior includes original furnishings and a peak into farm living in the 16th Century.
Nash House- Thomas Nash was Shakespeare's granddaughter's husband. The home has period furnishings and entrance to New Place, the place where William last lived. The house has since been torn down and an Elizabethan garden is in its spot.
Mary Arden's House- The girlhood farm home of Shakespeare's mother.
Hall's Croft- Dr. John Hall was Shakespeare's son-in-law. Tour the home and things relating to medical practice of the time.
Holy Trinity Church- The resting place for Shakespeare and many of his family members.
Theatre Highlights
Royal Shakespeare Theatre- Five different Shakespearean
plays run for about 2 months each year from November until September. Advance tickets are strongly recommended.
Swan Theatre- Elizabethan theater with seats on 3 sides of the stage. (Tours available)
Warwick Castle
This is the best medieval castle in England! The original
fortification dates to 914, and it was later added on to in 1068 by William the Conqueror. Today the 17th - 18th century mansion is surrounded by 14th century fortifications. The property belongs to the Tussaud Group, and many of the great halls, apartments, towers and dungeons are open to tour and include collections of furnishings, paintings, armory and of course, wax figures. This is well worth at least 3 hours, and is a great treat for kids as well as adults. The grounds alone are worth an hour. Or you could make arrangements to hold a royal banquet here...
Private Guides: See Stratford and learn about its history with a private guide. www.PrivateGuidesInEurope.com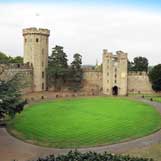 ---
Europe travel news sent to you 15 times a year.
---
Top sights, hotel reviews, travel tips and more.
---
Private Tours in France, Greece, Italy and Spain.
---
Join one of our small group Europe tours.
---
Tours and day trips to help you explore Europe.
---
Hire a professional from Private Guides in Europe.
---
Let us help personalize your European itinerary.
---
Our thoughts on how to best travel in Europe.
---
For more information or to send us an email.
---
Car Rentals, Flights, Hotels, Rail Passes

---