Sights of Arles
---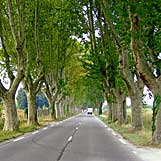 The earliest records of Arles history date back to the 6th century BC when it was a Greek trading post. In Roman times Arles was a stop on the Aurelian Way which lead from Rome to Spain. The Romans built a forum, baths, temples, theaters and what has become the most popular attraction today, the amphitheater. The south of France holds more Roman antiquities than any area outside Italy. Arles, because of its Roman monuments, was registered as a Unesco World Heritage Site in 1981.
Top Roman Sights in Arles
Les Arènes is a Roman amphitheater that dates to 80 AD. This coliseum like arena was once able to seat 20,000 people for gladiator style events. The arena was used in medieval times as a fortress to protect the town people from attacks. Today the arena is used for bullfights (corridas) in which the bull is not killed. The arena is impressive from the outside, but the interior has been compromised with bleacher style seats. Climb the tower for a view of the city or walk around it in the early evening to admire the lighting and reflect on Roman times. Open daily from 9:00 - 7:00, shorter hours in off season.
Théâtre Antique is an outdoor Roman style semi circle theater that sat 12,000 people. Emperor Augustus built it at the end of the first century BC. It was later used as a quarry, so much of what you see today is in ruins, but it is still used for outdoor performances.
Musée de l'Arles Antique is located about a half a mile (15 minute walk) from the center of town. This museum contains a collection of Roman antiquities found in Arles including a marble statue of Emperor Augustus. The museum is considered one of the best of its kind outside of Italy. Open daily from 9:00 - 7:00.
Les Alyscamps is a Roman cemetery on the south east outskirts of town. The cemetery is lined with tombstones and a partly ruined church. People from from Arles were buried here for over 1500 years. It was used as the subject of several Van Gogh and Gauguin paintings in late 1888.
Other Top Sights in Arles
The Eglise de Saint Trophime is considered one of the most beautiful churches in Provence. The highlight is the 12th century facade which depicts scenes from the Last Judgment. The interior nave is lined with tapestries. A beautiful cloister is also on the sight. Open daily from 10:00-12:00 and 2:00- 7:00. The church is located on the Place de la République notable for its large obelisk and fountain.
Museon Arlatan is a folklore museum of Provencal life including crafts, costumes, and everyday household items. The museum was founded by the 1904 Nobel Prize winner Frédéric Mistral (more info below). Open daily from 9:00-12:00 and 2:00-6:00, expect Mondays when it is closed.
Musée Réattu is a collection of modern paintings by Jacques Réattu, Théodore Rousseau, André Marchand and most famously a series of over 50 sketches by Picasso. Open daily from 9:00-12:00 and 2:00-6:00 expect Mondays, when it is closed.
The Place du Forum was once the center of the Roman city. Today it is the heart of Arles - a square shaded by plane trees. In the center of the square is a statute of Frédéric Mistral, who in 1854 wrote a series of poems in the medieval form of the Provencal language. These poems brought back the dialect that is spoken today. In 1896 he wrote the Provencal dictionary and in 1904 won the Nobel Prize for literature. The square is lined with 17th and 18th century mansions which have now been converted to hotels. In the southeast corner is a café that was the subject of Van Gogh's "Café at Night". A perfect place to start or end your time in Arles.
If you are visiting Arles, please also see our page about Vincent Van Gogh sights in Arles.
Travels with Friends: Learn more about other European destinations and tips for traveling within Europe. www.TravelsWithFriends.com

---
Europe travel news sent to you 15 times a year.
---
Top sights, hotel reviews, travel tips and more.
---
Private Tours in France, Greece, Italy and Spain.
---
Join one of our small group Europe tours.
---
Tours and day trips to help you explore Europe.
---
Hire a professional from Private Guides in Europe.
---
Let us help personalize your European itinerary.
---
Our thoughts on how to best travel in Europe.
---
For more information or to send us an email.
---
Car Rentals, Flights, Hotels, Rail Passes

---