Van Gogh sights in Arles
---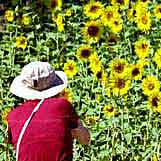 On February 20th, 1888 Vincent Van Gogh (1853-1890) moved to Arles from Paris at the age of 35 to escape his bouts of depression. Van Gogh felt that Arles had the perfect light to transform his art. He dreamed of Arles becoming an impressionist artist colony. Fellow artist Paul Gauguin came at his invitation to visit and together they opened a studio called the "Midi". Gauguin left after fighting with Van Gogh as he continued his slide into depression. Soon after Gauguin's departure, Vincent cut off his left earlobe in a drunken haze, sending it to a prostitute in an envelope.
In 1889 he voluntarily admitted himself to a psychiatric hospital in Arles, where one of his famous paintings, "Le Jardin de la Maison de Santé a Arles" or the Hospital at Arles. Soon after he was transferred to a hospital near St. Rémy in exchange for his right to continue painting.
In early 1890 he was then moved north to a hospital at Auvers-sur-Oise. On May 20th 1890 he shot himself in the chest and two days later died from his wounds.
Van Gogh was inspired in Provence by the harsh sunlight, sharp peaks, distant mountains, sunflowers and twisted olive trees. Many believe these images helped relieve his mental pain and this was expressed in his best works that were completed here. During his two years in Provence he painted hundreds of canvases including many of his most famous, though no originals are in Arles to be seen.
Vincent Van Gogh Sights in Arles
You will not find any Van Gogh paintings in Arles today, but there are several sights that were the subject of his paintings and other sights dedicated to him. You can pick up a map of Van Gogh sights at the tourist office, or join a "Walking in the Footsteps of Van Gogh" tour every Saturday in high season.
Fondation Van Gogh is located near the amphitheater and is a museum showing a variety of art forms all dedicated to Van Gogh's colors, motifs, subjects and mood. Translations in English available. Open daily from 10:00 AM - 7:00 PM. In the off season it is open shorter hours including a lunch break, also closed on Monday in winter.
Espace Van Gogh is a cultural center including a library and art gallery that are dedicated to the artist. The interior courtyard was one of the subjects of his paintings, and today is maintained to look as it did when Van Gogh spent his last few nights in Arles. Only open Tuesday, Wednesday, Friday and Saturday.
Les Alyscamps is a Roman cemetery on the south east outskirts of town. The cemetery is lined with tombstones and a partly ruined church. People from from Arles were buried here for over 1500 years. It was used as the subject of several Van Gogh and Gauguin paintings in late 1888.
The Place du Forum was once the center of the Roman city. Today it is the heart of Arles - a square shaded by plane trees. In the center of the square is a statute of Frédéric Mistral, who in 1854 wrote a series of poems in the medieval form of the Provencal language. These poems brought back the dialect that is spoken today. In 1896 he wrote the Provencal dictionary and in 1904 won the Nobel Prize for literature. The square is lined with 17th and 18th century mansions which have now been converted to hotels. In the southeast corner is a café that was the subject of Van Gogh's "Café at Night". A perfect place to start or end your time in Arles.
Le Pont de Trinquetaille is a bridge built in 1875 that crosses the Rhône River in Arles. The original bridge was destroyed in WWII as was Van Gogh's nearby home. Van Gogh painted this bridge and views from it in 1888. Today you can visit the more modern bridge to compare the view against a reproduction of one of his original.
Please also visit our page about Roman and other sights in Arles and St. Rémy.
Travels with Friends: Learn more about other European destinations and tips for traveling within Europe. www.TravelsWithFriends.com

---
Europe travel news sent to you 15 times a year.
---
Top sights, hotel reviews, travel tips and more.
---
Private Tours in France, Greece, Italy and Spain.
---
Join one of our small group Europe tours.
---
Tours and day trips to help you explore Europe.
---
Hire a professional from Private Guides in Europe.
---
Let us help personalize your European itinerary.
---
Our thoughts on how to best travel in Europe.
---
For more information or to send us an email.
---
Car Rentals, Flights, Hotels, Rail Passes

---