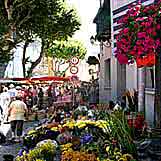 St Rémy de Provence -
Glanum and Les Antiques
---
Saint Remy de Provence is a quiet country town at the foot of Les Alpilles mountains. There is a plane tree lined ring road circling the center of the old town which is a charming pedestrian area brought to life on Wednesday morning by its market day. The town itself dates back to Roman times and the nearby ruins of Glanum are a must see if you are visiting the area.
Nostradamus whose famous predictions are still debated today, was born here in 1503. The town is also known for another famous resident, Van Gogh, who spent more than a year here painting many scenes from around the town and countryside.
Sights in St Rémy de Provence
Most visitors who come to St Rémy, do not come for a particular sight, but rather to enjoy the small town charm. If you have time in town, here are a few suggestions of things to see. Also plan time to visit Les Antiques and Glanum, just south of town. (More information below.)
The Musée Archéologique located inside the Hôtel de Sade displays Greek and Roman antiquities that were excavated from the Ruins at Glanum. Included are coins, pottery and jewelry. Open from 10:00 - 12:00 and 2:00 - 5:00, closed on Mondays.
Inside the Hôtel Estrine you will find the Centre d'Art Présence Van Gogh. This museum displays changing modern art exhibits and houses a collection of Van Gogh reproductions. Closed Mondays.
The Musée des Alpilles is a small museum that offers a look into local history and crafts.
Just outside of town is the St Paul de Mausole psychiatric hospital was where Van Gogh spent the year 1889. During his stay he painted over 150 canvases including one of his most famous, 'The Starry Night'. This complex was originally a 12th century monastery and today the church and cloister are still open to the public. Closed Sundays.
Our favorite chocolate artisan has his small shop in St Rémy de Provence. Joël Durand, 3 boulevard Victor Hugo, tel: 04 90 92 38 25 will ship worldwide by FedEx. Joel works almost exclusively with ganaches, the melt-in-your-mouth center of chocolate truffles. He offers over 32 different flavors, each of which is topped with a letter or punctuation mark making it easier than ever to 'say it with chocolate'! With fillings like Corsican bitter arbutus honey (F), lavender (L), or cardamom (X) each chocolate is hand made and absolutely exquisite. He is considered on of the 10 best chocolatiers in France.
Les Antiques and the Ruins of Glanum
Located about 1.5 miles south of St Rémy on the road towards Les Baux, you will pass Les Antiques and the Ruins of Glanum.
Les Antiques consists of two amazing structures. The Arch is believed to be the original entrance to Glanum and its Greek like carvings celebrate the Roman conquest of Marseilles. The second structure is considered one of the best preserved Roman buildings in the world. This 58 foot tall mausoleum was built as a monument to Augusts Caesar's grandsons. Both structures date to about 25 BC. This is an exciting 2000 year old sight that you can drive, park and walk right up to.
Just across the road from Les Antiques you will find the Ruins of Glanum. Glanum was a 5th Century BC Celtic town which was then settled by the Greeks in the 2nd Century BC. From the 1st - 3rd centuries AD it was a thriving Roman army base and spa town. The ruins were first discovered in 1921, and excavations have continued ever since. This is considered one of the most important archaeological sites in France.
Audio tours of the excavations are available and guide you through the canals, columns, houses, monuments, temples, thermal baths and pools. It is believed that the true size of Glanum was 6-7 times larger than the current excavation site. Open April - September from 9:00 - 7:00 and from 10:30 - 5:30 in the slow season. Admission to the Ruins at Glanum is $9.00.
Private Guides: See St Remy and learn about its history with a private guide. www.PrivateGuidesInEurope.com
---
Europe travel news sent to you 15 times a year.
---
Top sights, hotel reviews, travel tips and more.
---
Private Tours in France, Greece, Italy and Spain.
---
Join one of our small group Europe tours.
---
Tours and day trips to help you explore Europe.
---
Hire a professional from Private Guides in Europe.
---
Let us help personalize your European itinerary.
---
Our thoughts on how to best travel in Europe.
---
For more information or to send us an email.
---
Car Rentals, Flights, Hotels, Rail Passes

---