Munich History 101
---
We believe that when you travel to Europe you should have a basic knowledge of the history of the country or area you are visiting. Here is our brief history of Munich. Please also visit our pages about the Top 10 Sights in Munich as well as the other sites.
The Founding of Munich
The Isar River was a major trade route for salt coming from Salzburg on its way to Augsburg. A bridge on the river was used by a local bishop as a toll booth for boats. In 1156 the ruler of Bavaria (Duke Henry the Lion) decided that he should collect this toll, so he burned down the bishop's bridge and built his own a little upstream. His bridge, built near a small community of Benedictine Monks, was referred to as zu den München or "the site of the little monks." The name München stuck and today a little monk remains a symbol of Munich. On June 14th 1158, the Emperor officially granted the settlement of Munich the right to hold a market, thus making it a true city.
Cultural Beginnings
In the early 1500s Munich had a population of nearly 14,000. Residents were no longer just religious people, but were a wide mix of cultures and backgrounds. The Wittelsbach family had begun ruling the city and helped to fund many public projects. Their idea was to make Munich the second Paris, including: museums, libraries, universities and parks. This cultural movement would last for 400 years.
Part of these cultural happenings included the first law in Europe to regulate food or drink, the Bavarian Beer Purity Law of 1514.
Also in this time period the Frauenkirche (Church of Our Lady) was built. Today, her domed towers remain a symbol of Munich because they survived the intense bombings of World War II.
By 1800 Munich had a population of 50,000 and many of the tourist attractions we enjoy today were built during that century.
Oktoberfest
In 1810 the Crown Prince Ludwig of the Wittelsbach family (later called Ludwig I) was to be married. To celebrate the occasion a two week wedding reception party was scheduled. This party was so popular that it became a local tradition known worldwide as the Oktoberfest. This is one of the largest festivals in the world bringing 7 million beer drinking visitors to Munich for a two week period each Fall. More info on Oktoberfest.
Maximilian II and Ludwig II
Maximilian II became King after his father, Ludwig I, was forced to abdicate due to public scandal. Maximilian II commissioned many of the museums and streets that are now so loved in Munich.
In 1864 Maximilian II passed away, and his eighteen year old son Ludwig II became King. He became the patron to composer Richard Wagner, and made grand plans for an opera house in Munich but the residents refused to pay for it. Ludwig II did not really care for Munich and preferred to live in the countryside. He spent his time and money building fairytale castles. In 1886 Ludwig II was stripped of his title and a few days later was found drowned. More info on Ludwig.
World War I and the Revolution
In 1871 the ruler of Prussia united 39 small principalities to become the country of Germany, forming Europe's first superpower and eventually leading to the beginning of World War I (1914-1918).
In 1918 Munich was so impoverished that the people began a revolt including a demonstration in front of the Wittelsbach Residenz. Due to the size of the demonstration, the Wittelsbach family left Munich permanently, ending the longest rule in European history.
World War II
After World War I Munich became a very conservative city and a breeding ground for extreme political movements. From this environment came Adolf Hitler. Many of his ideas were written in Mein Kampf (My Struggle), which he used for his many speeches held in beer halls around Munich.
Because of Adolf's history in Munich, the city was badly bombed during the war. Fifty percent of all buildings were completely destroyed, 250,000 residents died and only 200 of the city's 10,000 Jews survived the horror of the war.
Modern Munich
Munich was hastily rebuilt after the war resulting in a car friendly city full of 1950s and 60s style buildings. Businesses such as BMW started to boom and so did the population. In preparation for the 1972 Olympics many of Munich's politicians visited Los Angeles for ideas. They were so horrified by the cars and freeways that they stopped Munich's push to be car friendly, and created the first pedestrian zone in Europe.
Munich remains a top spot for tourists visiting Germany even though all political power comes from Berlin.
Travels with Friends: Learn more about other European destinations and tips for traveling within Europe. www.TravelsWithFriends.com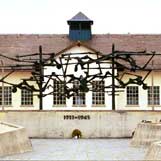 ---
Europe travel news sent to you 15 times a year.
---
Top sights, hotel reviews, travel tips and more.
---
Private Tours in France, Greece, Italy and Spain.
---
Join one of our small group Europe tours.
---
Tours and day trips to help you explore Europe.
---
Hire a professional from Private Guides in Europe.
---
Let us help personalize your European itinerary.
---
Our thoughts on how to best travel in Europe.
---
For more information or to send us an email.
---
Car Rentals, Flights, Hotels, Rail Passes

---