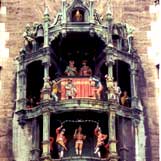 Other great sites in Munich
---
On this page you'll find a list of other sites we feel are worth consideration during your visit to Munich. Please also visit our pages about Basic Munich History and our Top 10 Munich sites.
Bayerisches Nationalmusuem- Museum dedicated to Bavarian sculpture, painting, folk art, ceramics, furniture, textiles and clocks.
BMW Museum- History of the automobile including past, present and the future.
Cuvilliés Theater- When concerts or rehearsals are not taking place you can often get a glimpse at the opulent interior.
Feldherrnhalle- Loggia designed after the Florentine model, site of many Hitler rallies.
Hofgarten- Italian style Garden dating from the early 1600s.
Isartor- The only tower left from the wall that once circled Munich.
Karlstor- Another one of Munich's gates dating from the 1500s - rebuilt after the war.
Kaufingerstrasse and Neilhauserstrasse- Munich's main pedestrian and shopping streets.
Marionetten Theater- Puppet theater with matinee shows during the week and an evening performance on Saturday.
Maximilianstrasse- Munich's most upscale shopping street.
Michaelskirche- Largest Renaissance church north of the Alps (1583). Highlights include several World War II photos and the crypt of Mad King Ludwig II.
Neue Pinakothek- Museum of 18th and 19th Century European art.
Odeonsplatz- One of Munich's most beautiful squares.
Olympiapark and Tower- The 1972 Olympic Village.
Schwabing- Munich's Greenwich Village.
Stuck-Villa- (Jugendstil Museum) House of Painter Franz von Stuck turned into German Art Nouveau Museum.
Travels with Friends: Learn more about other European destinations and tips for traveling within Europe. www.TravelsWithFriends.com
---
Europe travel news sent to you 15 times a year.
---
Top sights, hotel reviews, travel tips and more.
---
Private Tours in France, Greece, Italy and Spain.
---
Join one of our small group Europe tours.
---
Tours and day trips to help you explore Europe.
---
Hire a professional from Private Guides in Europe.
---
Let us help personalize your European itinerary.
---
Our thoughts on how to best travel in Europe.
---
For more information or to send us an email.
---
Car Rentals, Flights, Hotels, Rail Passes

---