Sights in Paris
Sightseeing in Paris is more than the Eiffel Tower. On this page you'll find information about the many wonderful sights of Paris, with some of our favorites in bold. For more general information about Paris including the Arrondissement, the Metro or Museum Passes or read about our 10 favorite Paris sites, please follow the links.
---
1st Arrondissement
Jardin du Palais Royal-1630 palace with interior statue filled garden

Rue de Rivoli- shopping arcade

Orangerie-19th Century citrus nursery now housing a collection of Impressionist paintings including Monet's giant murals of water lilies.

Place Vendôme-Square of 18th C. buildings with expensive jewelry stores and Hôtel Ritz. The centerpiece is the Colonne Vendôme, a column made by prisoners of Napoléon in 1805.

Forum des Halles-underground shopping complex on former site of Les Halles (marketplace in Old World Paris)
3rd Arrondissement
Musée Picasso-devoted to works of Pablo Picasso

Rue des Rosiers-old Jewish neighborhood

Museum of Jewish Art and History

Musée Carnavalet-History of Paris
4th Arrondissement
"Cité" Metro Stop-One of original Art Nouveau 19th C. Metro entrances

Flower Market-at place Louis Lepine. Note: on Sunday it is a bird market.

L'Opentour-Open air double decked bus tour with on and off privileges.

Deportation Memorial-to the 200,000 French victims of Nazi concentration camps. Includes 200,000 lighted crystals and an eternal flame.

Conciergerie-14th Century palace used as a prison during the French Revolution. Marie-Antoinette was one of many who awaited death here.

Pont Neuf-oldest bridge in Paris (1600).

Ile St-Louis- small island once a sheep pasture, now boasting 17th Century aristocratic mansions and a main street lined with shops and restaurants.

Maison Berthillon- The most renowned ice cream shop in Paris, on the Isle St-Louis.

Centre Georges Pompidou- large collection of modern and contemporary art. The inside-out building is a work of art itself.

Eglise St-Eustache- Home of an 8,000 pipe organ - great for concerts!
5th Arrondissement
Latin Quarter- So-called because Latin was once the language spoken at the Sorbonne university located there. Lots of restaurants, bookstores and nightlife.

Quai de Montebello-traditional booksellers stalls

Musée de Cluny - museum of Medieval art set in the ancient Roman baths

Panthéon - originally an 18th Century domed church, now a mausoleum for some of France's historical figures including Victor Hugo and Voltaire.

Food market on rue Mouffetard

Jardin des Plantes-park with 2000+ plants from around world, and the Museum of Natural History.
6th Arrondissement
St-Germain des Prés-charming neighborhood with narrow streets, hidden squares, tiny shops and boutiques

Café de Flore and Deux Magots-legendary cafés that Hemingway's crowd frequented

Eglise St-Germain des Prés-oldest church in Paris (6th C.)

St Sulpice-Organ music delight with two Sunday masses and maybe a chance to watch the organist perform.
7th Arrondissement
Les Egouts- tour the longest sewer system in the world

Hôtel des Invalides-1670 hospital for invalids, now Napoléon's Tomb & Musée de l'Armée

Pont Alexandre III - ornate bridge decorated with candelabra lamps, winged horses, nymphs & lions

Musée Rodin - sculptures by Augustine Rodin including The Thinker and The Kiss
8th Arrondissement
Champs-Elysées - Famous tree lined boulevard with shops, cafes, and cinemas

Place de la Concorde - Place of executions during the Revolution. Centerpiece is a 3000 year old Egyptian obelisk from the Temple of Ramses. Location of a huge Ferris wheel and the famously luxurious Hôtel de Crillon.

Place de la Madeleine-18th Century church built like a Greek temple. World class gourmet food shops, too!
9th Arrondissement
Opéra Garnier - Opera House (1860) a beautiful example of Beaux Arts architecture. The lavish interior can be seen by guided tour.

Paris Story- A multi media film with Victor Hugo as your guide telling you the history of Paris' famous monuments. Annoying headphones, but very informative!
10th Arrondissement
12th Arrondissement
Opéra Bastille – Current modern opera house with guided tours available

Promenade Plantée Park - a 2 mile long park for strolling-once a train track.
14th Arrondissement
Montparnasse - neighborhood of Gertrude Stein, Alice B. Toklas and Ernest Hemmingway in 1920s

Famous literary cafes: La Rotonde, Le Select, La Dôme, La Coupole (blvd Montparnasse & Raspail)

Catacombs - Underground walk-bones of 6 million
16th Arrondissement
Place de l'Alma - Princess Diana memorial

Bois de Boulogne - 2200 acre park includes Shakespeare gardens, amusement park and miniature zoo-fun place for the family

Musée Guimet - Asian Art Museum

Musée Marmottan Monet - the largest collection of Claude Monet's paintings

Musée de Balzac - former home of French literary figure Balzac-now a museum about his life and works

Avenue Foch -widest avenue in Paris and the home to the rich and famous
18th Arrondissement
20th Arrondissement
Cimetière du Père-Lachaise- Largest and most elite park like cemetery in Paris. Some of the residents include Heloise and Abelard, Balzac, Oscar Wilde, Chopin, Edith Piaf and even Jim Morrison.
Travels with Friends: Learn more about other European destinations and tips for traveling within Europe. www.TravelsWithFriends.com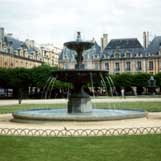 ---
Europe travel news sent to you 15 times a year.
---
Top sights, hotel reviews, travel tips and more.
---
Private Tours in France, Greece, Italy and Spain.
---
Join one of our small group Europe tours.
---
Tours and day trips to help you explore Europe.
---
Hire a professional from Private Guides in Europe.
---
Let us help personalize your European itinerary.
---
Our thoughts on how to best travel in Europe.
---
For more information or to send us an email.
---
Car Rentals, Flights, Hotels, Rail Passes

---