Arriving in Athens
---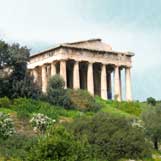 Athens new El.Venizelos International Airport opened for the 2004 Olympics. This beautiful new airport is about 20 miles from the city center, and for your stay in Athens a car is not needed. There are a variety of options for getting into the city without a car and they are all located at the Arrival Level, with the exception of the train/metro, whose entrance is at the Departures Level (opposite entrances 1 and 2).
Athens by Taxi
The airport is accessible by taxi on a 24-hour basis. Just go to the taxi queue next to Door 3 on the Arrivals Level. You can expect to pay between 25.00 and 30.00 euros for 2 people with luggage, from the airport into the central city with the drive taking about 30 minutes. According to Greek law, taxi drivers should provide you a receipt upon request for the amount paid for transportation services. The receipt should also indicate the taxi registration number and the driver's name.
We recommend that you ask the driver the approximate price before you agree to the ride. There are, unfortunately, some drivers who might scam you if you are vulnerable. What to watch for: One scam includes having a small sign posted inside the cab that says it is a Greek Holiday and therefore rates are higher. While it is true for official holidays, this practice sometimes selectively appears for confused tourists on non-holidays. Be suspicious if a driver wants to drop you off at a location close to, but not in front of your hotel. Drivers who do this may be over charging you and don't want you to get the hotel management involved. Most hotels know the prices and will gladly help a guest who is in dispute with the driver.
Athens by Metro
The airport is accessible via Metro Line 3, "Athens International Airport - Monastiraki". The journey time from Athens International Airport to Syntagma Square is 30 minutes. The trains depart from the airports Departures Level every 30 minutes (i.e.. 9:00, 9:30, 10:00 and so on). Note that the Metro is closed from 12:30 AM until 5:30 AM. Below the 2005 fares are listed, but of course may be subject to change.
One way ticket for 1 person: 8 euros
Return ticket (within 48 hours):12 euros
One way for 2 people:12 euros
One way for 3 people:16 euros
Teens (under 18 years) and Students: 4 euros
Senior Citizens (65+ years): 4 euros
Mobility impaired: 4 euros
Athens by bus
Six public bus routes serve the airport (24 hours a day), connecting the greater area of Athens and Piraeus (sea port) with the airport. The E95 is the Athens Airport Express to Syntagma Square. All Express Buses disembark their passengers at the Departures Level and they depart from the designated area located at the inner curbside of the Arrivals Level, right outside the Intra Schengen area, between Doors 4-5. The buses depart the airport every 20 minutes (i.e. 10:00, 10:20, 10:40, 11:00 and so on). You can buy a ticket from the bus driver, all metro stations and public transport ticket outlets. The ticket price is 2.90 euros. Once you get on the bus you must validate your ticket.

Ticket Validity: A ticket is good for only ONE trip to or from the airport, but it may be used on an unlimited number of other public transit trips during the 24 hour period from the time of its first validation.

Validate your ticket. Only once if you start your travel using one of the airport express lines. If you use one or more public transport lines prior to the use of an airport express line, validate it once you board on the first line, and a second time when you board the airport express line. The penalty for not having a validated ticket is about 30 Euro.
Please also see our pages about Archaeology Sights, Museums, Neighborhoods, Day Trips and a suggested itinerary.
Travels with Friends: Learn more about other European destinations and tips for traveling within Europe. www.TravelsWithFriends.com

---
Europe travel news sent to you 15 times a year.
---
Top sights, hotel reviews, travel tips and more.
---
Private Tours in France, Greece, Italy and Spain.
---
Join one of our small group Europe tours.
---
Tours and day trips to help you explore Europe.
---
Hire a professional from Private Guides in Europe.
---
Let us help personalize your European itinerary.
---
Our thoughts on how to best travel in Europe.
---
For more information or to send us an email.
---
Car Rentals, Flights, Hotels, Rail Passes

---