Athens, Greece
---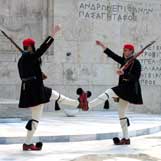 If you are considering a trip to Athens, we have included a sample itinerary to help you plan your time.
Day 1- Upon arrival at Athens' beautiful new airport, transfer to your hotel. We recommend choosing one near the Plaka and Syntagma Square. The Plaka is a lively area with lots of street vendors, shops and restaurants selling traditional Greek goods. Syntagma Square (Constitution Square) is beautiful with the parliament building as its focal point. Come here to see the changing of the guard on the hour.
Day 2- Head out early to visit the Acropolis with the Parthenon sitting high on the hill above the city. This afternoon choose from the many other ancient sights like the Ancient and Roman Agoras, or the Temple of Olympian Zeus.
Day 3- Make your way to Kolonaki, the exclusive shopping district in modern Athens. After lunch, ride the new funicular to the top of Likavittos Hill for views across Athens and out to the sea. This evening enjoy dinner at a restaurant offering live traditional folk music and dancing.
Day 4- Join a tour or make your own day trip to Cape Sounion, where the Temple of Poseidon looms high on the cliff edge overlooking the Aegean Sea.
Day 5- From Athens there are ferries and flights to hundreds of beautiful islands, or you can explore mainland Greece if sea and sun don't fit your needs.
Private Guides: See Athens and learn about its history with a private guide. www.PrivateGuidesInEurope.com

---
Europe travel news sent to you 15 times a year.
---
Top sights, hotel reviews, travel tips and more.
---
Private Tours in France, Greece, Italy and Spain.
---
Join one of our small group Europe tours.
---
Tours and day trips to help you explore Europe.
---
Hire a professional from Private Guides in Europe.
---
Let us help personalize your European itinerary.
---
Our thoughts on how to best travel in Europe.
---
For more information or to send us an email.
---
Car Rentals, Flights, Hotels, Rail Passes

---