Neighborhoods in Athens, Greece
---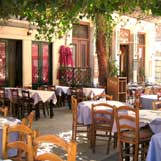 A visit to Athens is just not complete without exploring one of the following neighborhoods.
The Plaka- The Plaka sits at the foot of the Acropolis. This is the oldest section of the city, and by far the most popular with tourists. Here you will find winding streets that are filled with shops selling typical Greek souvenirs and tavernas spilling out into the street. Spend time walking up hill along the small streets toward the Acropolis where you will find many more restaurants. Much of this area is very pedestrian friendly. Bordering the Plaka is the very busy shopping street of Ermou which leads up to Syntagma Square. We strongly recommend that you find a hotel in or near the Plaka area.
Monastiraki - Adjacent to the Plaka is Monastiraki, known for its bazaar like small streets jammed with vendors selling goods. The atmosphere is more of a flea market, and the prices are lower than in the Plaka. It is okay to haggle over price here. Enjoy yourself, but watch your wallet too!
Kolonaki- The opposite extreme of Monastiraki is the Kolonaki which is filled with exclusive shops, coffee houses and hotels sitting at the foot of Likavittos hill. You'll find Prada, Gucci and the likes, and if you are lucky, maybe you'll spot a movie star or two!
Psiri- The Psiri borders on the Monastiraki and has a more local flavor. There are numerous small specialty shops and old tavernas where time seems to have stood still. This is where you will see locals shopping and eating. Some feel that this will become the next hot spot for tourism while others are simply not impressed.
Omonia Square and Athinas Street- Omonia Square is a large and very busy square. Two Metro lines cross here and pedestrians pour into the streets filled with taxis ready to take them away. From here Athinas street heads toward the Monastiraki passing the large central market. It is a great shopping area and offers a reminder of Greece's history with the Orient.
Please also see our pages about Transportation, Archaeology Sights, Museums, Day Trips and a suggested itinerary.
Private Guides: See Athens and learn about its history with a private guide. www.PrivateGuidesInEurope.com

---
Europe travel news sent to you 15 times a year.
---
Top sights, hotel reviews, travel tips and more.
---
Private Tours in France, Greece, Italy and Spain.
---
Join one of our small group Europe tours.
---
Tours and day trips to help you explore Europe.
---
Hire a professional from Private Guides in Europe.
---
Let us help personalize your European itinerary.
---
Our thoughts on how to best travel in Europe.
---
For more information or to send us an email.
---
Car Rentals, Flights, Hotels, Rail Passes

---