Museums and places of interest in Athens, Greece
---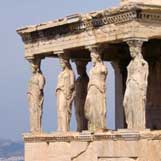 Museums in Athens
The National Archaeological Museum- This is the most important museum in Greece. It houses some of the best examples of Greek sculpture in the world. You will also find antiquities from Mycenae and the ancient civilization on Santorini.
Byzantine Museum- This museum is located inside a 19th century mansion and houses the world's largest collection of religious icons.
Benaki Museum- This museum is named after its benefactor Antonio Benakis. The collection includes Byzantine and Ottoman items, Greek national costumes and Chinese ceramics.
Museum of Traditional Pottery- In this museum you can see many different types of pottery from workshops around Greece
Museum of Cycladic Art- On display you will find more than 1000 objects that give evidence to the culture that existed in the Aegean islands during the"Cycladic Civilization".
Jewish Museum of Greece- Learn the history of Jews in Greece from the 6th Century B.C. up until the Holocaust.
Other Sights of Interest
Syntagma Square (Constitution Square) and the House of Parliament - This large square is the heart of Athens. At the top of the square is the Vouli (House of Parliament) where guards (evzones) in traditional skirted uniforms keep watch over the Tomb of the Unknown Soldier. Also on the square is the exclusive Grande Bretagne Hotel, the offices of the national airlines, and many popular shops and cafes.
The Plaka- Please see our page about neighborhoods in Athens.
The National Gardens- If the noise and pollution of the city get you down, it is time to head to the National Gardens. Here you can relax in the shade of more than 500 species of tress. There is also a duck pond, a small zoo and a cafe.
Likavittos Hill- Take the modern funicular to the top of Likavittos Hill for an amazing view over all of Athens including the Acropolis, the mountains and beautiful sea in the distance. There is a view restaurant at the top of the hill as well as a small Byzantine church.
Philopappos Hill- This hill is not as large as Likavittos, but it sits much closer to the Acropolis and offer views from the opposite direction. You will find the Pnyx and the grave monument to Philopappos there.
Please also see our pages about Transportation, Archaeology Sights, Day Trips, Neighborhoods and a suggested itinerary.
Private Guides: See Athens and learn about its history with a private guide. www.PrivateGuidesInEurope.com

---
Europe travel news sent to you 15 times a year.
---
Top sights, hotel reviews, travel tips and more.
---
Private Tours in France, Greece, Italy and Spain.
---
Join one of our small group Europe tours.
---
Tours and day trips to help you explore Europe.
---
Hire a professional from Private Guides in Europe.
---
Let us help personalize your European itinerary.
---
Our thoughts on how to best travel in Europe.
---
For more information or to send us an email.
---
Car Rentals, Flights, Hotels, Rail Passes

---