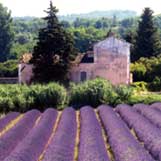 Sights in Provence
---
In the south of France lies a region, known as Provence, stretching from the coast of Marseilles to the inland cities of Orange and Apt about 60 miles away. For many visitors the way of life here seems to be the ultimate distillation of French simplicity. But like a French pastry, it is layered with a thousand intricate layers of detail and filed with sweetness that defies definition.
There is no need to set your alarm here. Unlike Paris or other northern cities of France, breakfast at your hotel won't start before 8:00 or even 8:30. The typical hotel buffet includes warm croissants with fresh butter and jams, and coffee with heated milk, or tea, and freshly squeezed orange juice. Locally produced cheeses and some of the many specialties of nearby villages will complete the offering and can range from pain au chocolate (rolls filled with bitter chocolate) to yogurt, honey, fruits and deli meats.
After a leisurely breakfast, head for one of the many outdoor markets that fill a different town in the region each day. For generations these markets have been a way of Provenšal life, offering the opportunity to shop, but also serving a social function by bringing the community together each week. For the traveler, it allows a glimpse into everyday life and a chance to interact with locals away from a hotel or restaurant.
The market place is usually in the town square, filled cheek to jowl with stalls of every description. You'll have a selection of fresh fruits and vegetables from local farmers, fish and meats from local butchers as well as other specialties like fresh bread, ripe cheeses, olives, honeys, jams, spices and wines. Markets also sell everyday items like table linens, shoes, clothes, flowers, recorded music, and even books or things you might find in a hardware store. Depending on the town, you might find antiques and hand crafts that are typical of the region. Our favorite market takes place each Sunday in Isle sur la Sorgue.
By the time you have finished exploring the market it will be time for a leisurely lunch. In Provence most stores, museums, banks and schools close from 12:30 until about 2:30, so choose an outdoor cafe (if weather permits) to watch the life of the town unfold around you. Order multiple courses and savor your meal with a glass of the local rosÚ (surprisingly dry and light) wine. Our favorite salad course (or light lunch) is a bed of mixed greens tossed with a vinaigrette dressing (olive oil with just a touch of Dijon) and warm goat's cheese served over small toasts.
After you have finished your meal enjoy an espresso. Take your time to cherish the sights and sounds around you. Your lunch experience can easily last 1.5 hours. The Provenšals honor the southern tradition of an afternoon siesta, so there is no hurry. Maybe head back to your hotel for a nap, or some relaxation near the pool. It's tough to decide what to do when the options are so few (Provence is asleep) and yet limitless.
Hill top towns of the Luberon are favorites for afternoon visits. Most are built from stone and seem carved right out of the cliffs of the mountains. They were originally built here for defensive purposes, but today are filled with boutiques selling lavender scented soaps, beautiful fabrics, Santons (a Provenšal doll), and lovely pottery. Our favorite is the town of Les Gordes.
If you enjoy art museums, cathedrals, palaces, castle ruins, Roman antiquities, Impressionist painters, antique shopping, wine, olive oil, tapenade or chocolate, you can find it all in Provence. From the smallest villages like Les Baux or St Remy to the larger cities such as Aix en Provence, Avignon or Arles Provence has something for everyone.
Life here is about simple pleasures. Take time to smell the lavender, listen to the birds, really taste the cheeses, touch the stone walls and talk with the locals. Soon you will find yourself as much in love with this region as we are, always yearning to return.
---
Travel Tips
High season is from April until the end of September. The summer days are long and warm, filled with the sound of cicadas. Winter months are cool, windy and wet.

The region is best explored by car, but larger towns are accessible by train. Air tickets can be purchased to include high speed train service from Paris to Avignon.

Plan enough time to visit a market, take in a hilltop town as well as one of the more cosmopolitan cities, keeping in mind that everything closes for lunch. You will need at least a 3 night stay to scratch the surface.
Private Guides: See Provence and learn about its history with a private guide. www.PrivateGuidesInEurope.com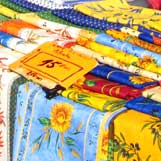 ---
Europe travel news sent to you 15 times a year.
---
Top sights, hotel reviews, travel tips and more.
---
Private Tours in France, Greece, Italy and Spain.
---
Join one of our small group Europe tours.
---
Tours and day trips to help you explore Europe.
---
Hire a professional from Private Guides in Europe.
---
Let us help personalize your European itinerary.
---
Our thoughts on how to best travel in Europe.
---
For more information or to send us an email.
---
Car Rentals, Flights, Hotels, Rail Passes

---